Your "One Stop" Retirement Information Center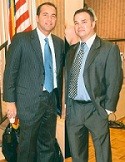 Isaacson Tax & Estate Advisors is a full service retirement planning company, headquartered in Boynton Beach since 2004.  We are accredited members of the Better Business Bureau of South Florida and are active members of the Boynton Beach Chamber of Commerce. 
Unlike many brokerage firms which have "house products" that their advisors often push, we are purely independent and are "goal driven," not "product driven."  Since we also provide tax preparation services for our clientele, and work in close conjunction with estate planning attorneys, our planning and advice is specifically tailored to your individual situation.
Discover how a 2022 IRS tax reporting change could affect people who are self-employed or whose side job pays through an app or online platform.

How do you see your retirement? This article provides some guidelines to help you develop a well-defined retirement vision.

Did you know varying performance can change the balance of sectors in a portfolio? Learn how sector funds can be used to shift sector weighting.

Explore some key retirement plan contribution limits and various tax deduction, exclusion, exemption, and threshold amounts for 2022.