Your "One Stop" Retirement Information Center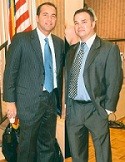 Isaacson Tax & Estate Advisors is a full service retirement planning company, headquartered in Boynton Beach since 2004.  We are accredited members of the Better Business Bureau of South Florida and are active members of the Boynton Beach Chamber of Commerce. 
Unlike many brokerage firms which have "house products" that their advisors often push, we are purely independent and are "goal driven," not "product driven."  Since we also provide tax preparation services for our clientele, and work in close conjunction with estate planning attorneys, our planning and advice is specifically tailored to your individual situation.
Risk tolerance should be a fundamental component of an investment strategy and based on an investor's specific situation.

Understanding the influence of human nature might help investors overcome five common psychological traps.

Spousal IRA contributions offer a way for stay-at-home parents and nonworking spouses to save for retirement.

Tips to help parents teach their children about personal finance.