Your "One Stop" Retirement Information Center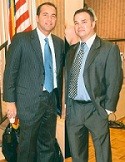 Isaacson Tax & Estate Advisors is a full service retirement planning company, headquartered in Boynton Beach since 2004.  We are accredited members of the Better Business Bureau of South Florida and are active members of the Boynton Beach Chamber of Commerce. 
Unlike many brokerage firms which have "house products" that their advisors often push, we are purely independent and are "goal driven," not "product driven."  Since we also provide tax preparation services for our clientele, and work in close conjunction with estate planning attorneys, our planning and advice is specifically tailored to your individual situation.
The debt ceiling may become a focal point during upcoming federal budget and tax reform negotiations. Here's why.

What can go wrong when investors chase performance and/or have a portfolio overly concentrated in one sector.

How unit investment trusts operate and potential investment risks.

Investors should understand basic terms and types of trades, like bid and ask prices, market order and limit order.