Your "One Stop" Retirement Information Center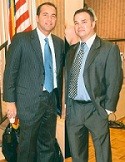 Isaacson Tax & Estate Advisors is a full service retirement planning company, headquartered in Boynton Beach since 2004.  We are accredited members of the Better Business Bureau of South Florida and are active members of the Boynton Beach Chamber of Commerce. 
Unlike many brokerage firms which have "house products" that their advisors often push, we are purely independent and are "goal driven," not "product driven."  Since we also provide tax preparation services for our clientele, and work in close conjunction with estate planning attorneys, our planning and advice is specifically tailored to your individual situation.
Using home equity to fund other financial objectives has potential benefits and risks. This article looks at various ways to tap home equity.

Have you thought about starting your own business? Here's an overview of some important first steps in the entrepreneurial process.

Discover four common practices that might help you identify and avoid scams.

This article discusses the U.S. workforce and what the shifting labor market could mean for workers, employers, inflation, and economic growth.