Your "One Stop" Retirement Information Center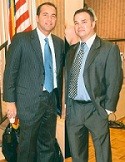 Isaacson Tax & Estate Advisors is a full service retirement planning company, headquartered in Boynton Beach since 2004.  We are accredited members of the Better Business Bureau of South Florida and are active members of the Boynton Beach Chamber of Commerce. 
Unlike many brokerage firms which have "house products" that their advisors often push, we are purely independent and are "goal driven," not "product driven."  Since we also provide tax preparation services for our clientele, and work in close conjunction with estate planning attorneys, our planning and advice is specifically tailored to your individual situation.
The differences between term life insurance and permanent life insurance and the advantages of an individual policy.

Making life insurance part of an employee benefit program could be a cost-effective way to recruit and retain valuable employees.

Geopolitical tensions, like the Spanish showdown and Brexit, can affect economies and move financial markets.

New rules enable families to begin the FAFSA earlier using tax returns from two years prior to the academic year.