Your "One Stop" Retirement Information Center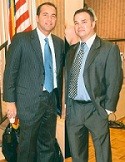 Isaacson Tax & Estate Advisors is a full service retirement planning company, headquartered in Boynton Beach since 2004.  We are accredited members of the Better Business Bureau of South Florida and are active members of the Boynton Beach Chamber of Commerce. 
Unlike many brokerage firms which have "house products" that their advisors often push, we are purely independent and are "goal driven," not "product driven."  Since we also provide tax preparation services for our clientele, and work in close conjunction with estate planning attorneys, our planning and advice is specifically tailored to your individual situation.
A discussion on the initial public offering (IPO) process, recent trends, and investment risks.

The beginning of the year is a great time to organize records and discard old documents to make room for new ones.

IRS rules allow a working spouse to contribute to an IRA for a spouse who earns little or no income.

Why investors still hold money market mutual funds despite low returns.